In this blog post, I want to show you why it is important to use targeted data when considering trends for a specific property, area, or price point–it is imperative to not overgeneralize. Why? County-wide trends may or may not apply to a particular property. Knowing neighborhoods is paramount when either listing a property for sale or purchasing a property.
To illustrate what I mean, take at look at the graph below for Snohomish County home sales. This report looks at sales prices for single family homes (not condos) for the entire Snohomish County region. As you can see, from June to July 2022, the median sales price (light blue bars) dropped from $791k to $760k (-3.9%. The average sales price (red line) dropped from $875k to $848k (-3.1%).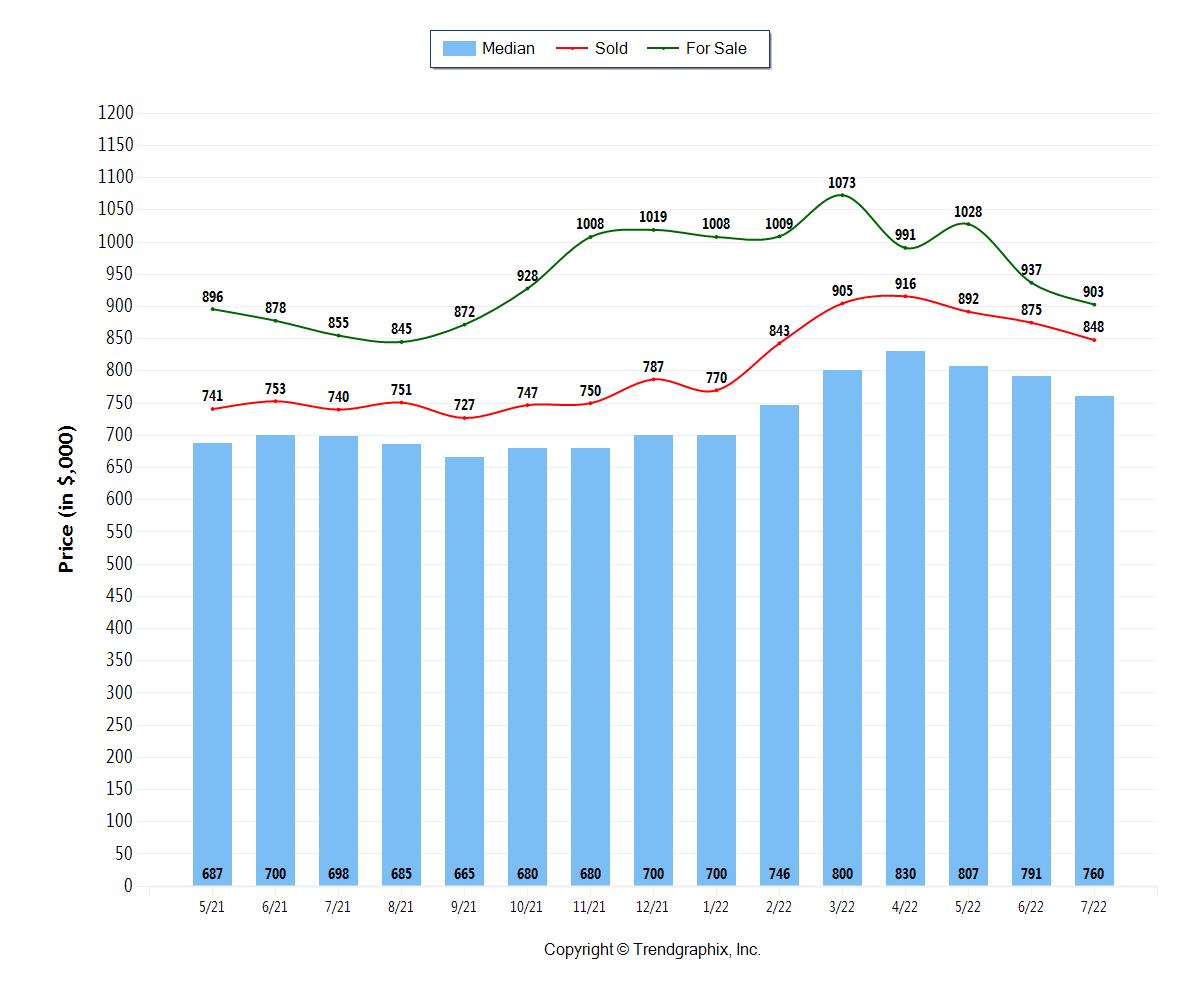 For comparison, take a look at the next graph (below) which shows the median sales price single family homes priced $500k and under in all Snohomish County. Notice that in this graph the median sales price (light blue bars) increased from $435k to $450k or +3.4% from June to July 2022. As a comparison, in the Marysville Zip Code 98271 (graph not shown) for homes selling for $500k and under, the median price (blue bars) increased from $450k to $455k (+1%) and the average sales price (red line) increased from $442k to $456k (+3.2%). Price matters!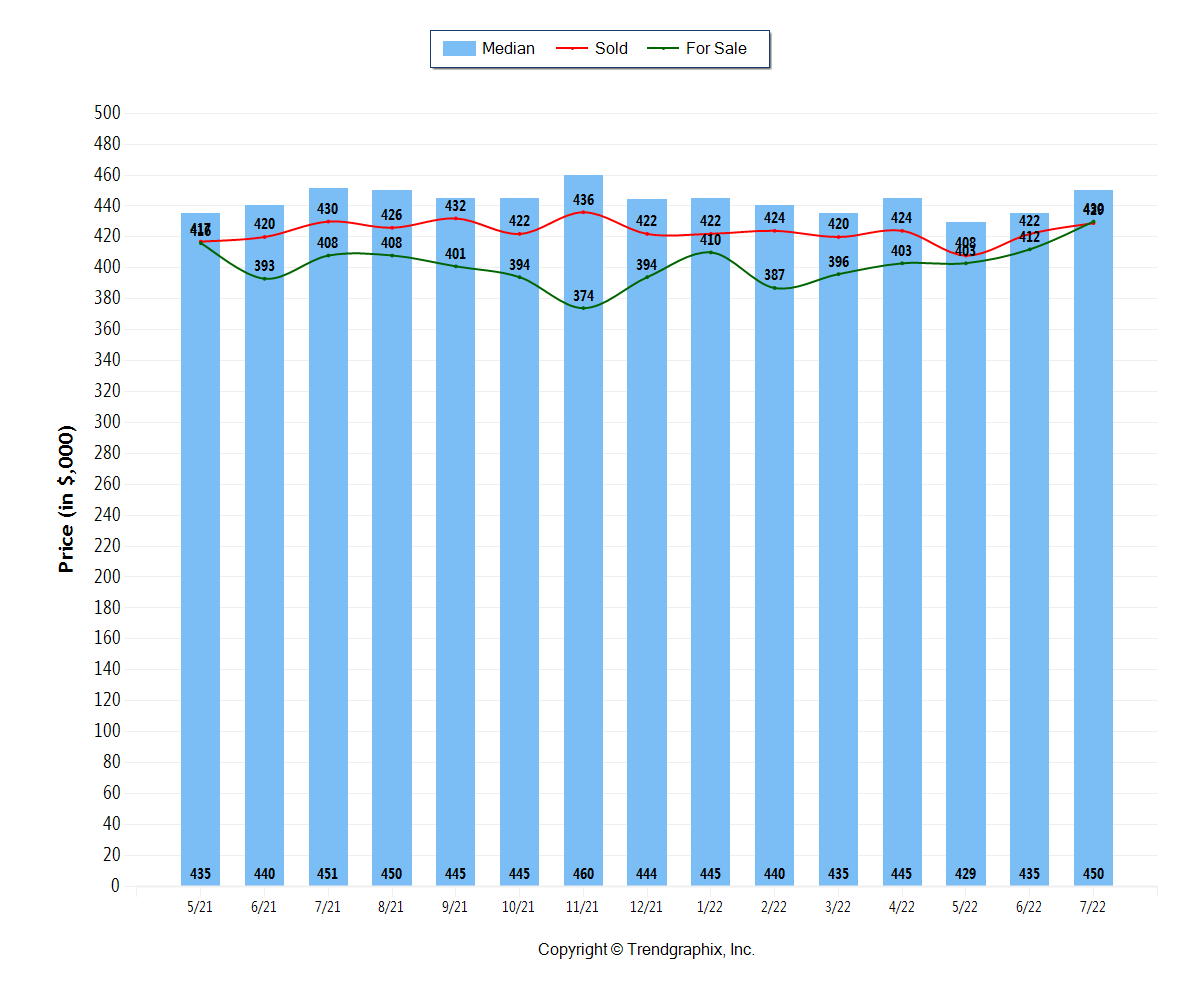 If we remove price as a consideration and instead look only at location, we see it can also have a drastic impact. For example, in Marysville Zip code 98271 for the period June 2022 to July 2022 (graph below), the median sales price across all price points increased from $593k to $615k (+3.7%), and the average price increased from $627k to $667k (+6.4%). This trend is quite different than the 3.9% and 3.1% decreases (respectively) in median and average sales prices for all of Snohomish County. Location matters!
Here are the main takeaways from this comparison:
Price point matters! At lower price points in Snohomish County, sales prices increased whereas in the county overall in the county they decreased. When interpreting current trends, price needs to be considered.
Location Matters! The median and average sales prices dropped in Snohomish County as a whole, but certain pockets including Marysville saw median and average sales prices increase. When buying and selling, you want a neighborhood expert.
Days on Market Can Be Misleading: The time it took to sell a home (average days on market or CDOM) increased from June to July, but that did not mean prices decreased (graph not shown). In Snohomish County overall as well as in specific pockets (like Marysville), days on market increased (going from 10 to 15 days county-wide) but prices dropped in some areas and price points and increased in others.
One possible explanation of the longer market times: Sellers came to market expecting/asking too much, then they had to dial back their expectations and cut prices after the properties sat on the market. CDOM can be misleading…just because a home sits on the market doesn't mean prices are trending down. They could or could not be. Again, a closer analysis is crucial.
Here is my biggest piece of advice: When buying or selling a property, work with an agent who considers sales data specific to your neighborhood and price point. It could literally cost you thousands of dollars and precious time.
Other thoughts for buyers and sellers on the road ahead: I do not have a crystal ball for what is in going to happen in the future. However, given our current trends and our general supply/demand imbalance, in I strongly suspect housing sales prices will continue to rise in our region, albeit more slowly than in the past two years. This means if you are a buyer and want to buy in a specific area, over time you will most likely be able to afford less and less house for the same amount of money which is an erosion of your purchasing power. Of course, purchasing power could improve if interest rates go down, but if they go up the erosion will accelerate. If/when that happens, then something in your buyer triangle (price, location, condition/features) will have to "give." If your price is fixed, then location or condition/features will need to be adjusted. This is what causes buyers to "drive to where they can afford to live." If you are actively looking to buy, it likely behooves you to purchase a home sooner rather than later so you can get more/better/better located house for your money. The current relatively low (historically speaking) interest rates and larger inventory of homes available makes now a great time to buy–much better than in the past 2+ years.
Final thoughts…with our rapid increase in home costs, I have seen two groups of buyers. The first includes many buyers who have gotten priced out of homes they initially could have afforded but then couldn't. It has been a frustrating and discouraging time for so many, and I am sad many people are not living where they wish. Fortunately, there is also a second group of buyers; these are the buyers who have purchased homes and are so glad they did because if they were looking today, they would not be able to afford the home they currently live in. It has been an honor to have helped buyers in this second group.  Please know that if you are in the market to purchase a home, I really hope to help you get into this second group! When you hire me, I will work very, very hard to get you there. ❤️